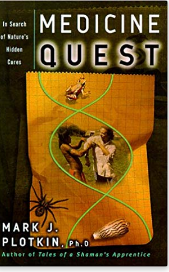 Medicine Quest: In Search of Nature's Healing Secrets
A world famous ethnobotanist scours the planet in search of new natural cures, unveiling the healing power in snake venom, leech saliva, rainforest frogs, and other natural sources. ...
Category: Investigations
Pulication Date: 03/27/2000
Editorial: Viking Adult
Number of Pages: 256
BUY NOW
Description
In Medicine Quest, Mark Plotkin moves beyond the Amazon rainforests of his classic Tales of a Shaman's Apprentice to describe the ongoing race to find new medicines for intractable diseases such as AIDS,cancer, diabetes, and tuberculosis in far-flung places all over the world. While highlighting the unlikely marriage of natural products, indigenous wisdom, and biotechnology, Plotkin details discoveries that are producing stunning results in the laboratory: painkillers from the skin of rainforest frogs, anticoagulants from leech saliva, and antitumor agents from snake venom. An entertaining and educational weave of medicine, ecology, ethnobotany, history, exploration, and adventure, Medicine Quest will thrill scientists, naturalists, and armchair explorers, and heighten our appreciation for the inexhaustible therapeutic potential of our natural world.
Reviews
Plotkin expands here on his earlier work, Tales of a Shaman's Apprentice, by giving an overview of how plants and animals are being utilized to treat disease. Trained as an ethnobotonist (a scientist who studies how people use local plants), Plotkin has the ability to translate science into engrossing anecdotes that are accessible to the lay reader. And he's got good news: the natural world, he writes, has made and will continue to make enormous contributions to modern medicine. (Penicillin, he reminds us, was derived from a fungus.) He describes, for instance, the work of Dr. William Fenical, who developed a chemical from a soft coral that may prove useful in fighting cancer. Plotkin also provides an eye-opening account of the curative properties to be found in the sea, in insects, in snake venom and in plants. But he also delivers bad news: the promise of this vast natural pharmacopoeia is threatened by unchecked population growth, environmental depredation and the destruction of native cultures of tribal shamans (who, he points out, discovered the use of plants that have led to the development of "everything from codeine for pain to quinine for malaria to podo-phyllotoxin for cancer"). A very interesting investigation into nature's medicine, this book also makes a strong case for conservation. Author tour. (Apr.) Copyright 2000 Reed Business Information, Inc. -Publishers Weekly